Some stories didn't make it into the history books...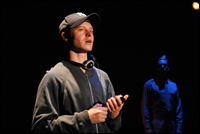 YANK! begins with a young man in present-day San Francisco who finds an old diary in a junk shop...
Through the journal we learn the story of Stu, a scared Midwestern kid who gets drafted in 1943, and who – like most guys – spends Basic Training wrestling with fears of whether he "has what it takes" to make it in the Army. But unlike most guys, Stu also falls in love with a fellow Private, a handsome All-American guy named Mitch...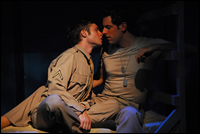 A friendship between Stu and Mitch leads to an awkward kiss on a train… after which a terrified Stu (scared of his feelings for Mitch, scared he's not "man enough to fight on the front") meets Artie – an unapologetically queer reporter for Yank Magazine, the journal "for and by the servicemen." Artie pulls some strings and gets Stu assigned as his photographer, and also shows Stu a glimpse of the gay world that thrived just beneath the surface of the US Army in the 1940s…
 
But after 10 months fate brings Stu and Mitch back together again as Mitch's division heads for battle at Iwo Jima, while Stu and Artie cover the story for Yank Magazine… and Stu has to fight in ways he never expected.

....YANK! tells Stu's, Mitch's, and Artie's stories, as well as the stories of the other men in Charlie Company. It explores what it means to be a man, and what it is to fall in love and struggle to survive in a time and place where the odds are stacked against you.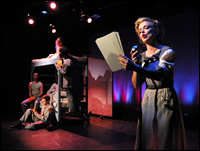 YANK! is a love song to Hollywood's "it takes one of every kind" platoon flicks and to 1940s Broadway. Suffused with songs (swing, big band, boogie-woogie) it explores what stories get told in wartime, and how WWII became the great catalyst in bringing gay men and women together.
 
While all the characters in Yank! are fictional, all of the situations and viewpoints come directly from memoirs and oral histories of gay (and straight) service members who took part in WWII. David spent hundreds of hours combing archives, researching these "hidden" histories, even having letters sent to him from around the country from old veterans or their families. Now as this generation begins to slip irrevocably into history, the YANK! team remains dedicated to the hope that their experiences will not be forgotten.
YANK! at the Diversionary Theatre in San Diego 2008
The West Coast premiere of YANK! was a smashing success and was extended for a 6-week run. It sold out and got amazing reviews across the board.
For more on the San Diego production, click here.


YANK! at the Gallery Players 2007
The first new book musical the Gallery Players had done in a generation, garnering amazing reviews and sold out crowds!
Click here for the cast and crew credits.


YANK! was at the New York Musical Theatre Festival in 2005 where it had a completely sold out run and won an audience award for Best Musical.
Click here for the cast and crew credits.