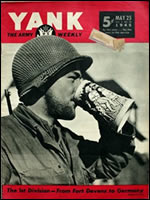 YANK! gets it title from Yank Magazine, which grew to become the most widely read and most popular magazine in the history of the U.S. Army. By the end of World War II, twenty-three various editions of Yank Magazine had been published. At the height of the magazine's operations, there were printing presses in Honolulu, Cairo, Tokyo, Okinawa, Rome, Trinidad, Saipan and other places, and the weekly achieved a worldwide circulation of 2,600,000. It is thought to have been read by ten million. The magazine, which was staffed entirely by enlisted soldiers, printed its last issue in December 1945, realizing for the War Department a profit of $1,000,000.

For more information about Yank Magazine, check out:

THE SOLDIERS - GAY AND STRAIGHT AND EVERYTHING IN BETWEEN

YANK! explores the lives of soldiers: the camaradarie, the tension, the loneliness, and the love. Here are some sources that inspired us. Check out:

YANK! is a love song to both the lyricism of 1940s Broadway musicals, and also the movies turned out by Hollywood during the war -- the platoon "It takes one of every kind" movies as well as the musicals. Here are some of our favorites:
Platoon Movies
War Musicals
Composers, Lyricists, and Shows that informed the writing of YANK!